Sustainability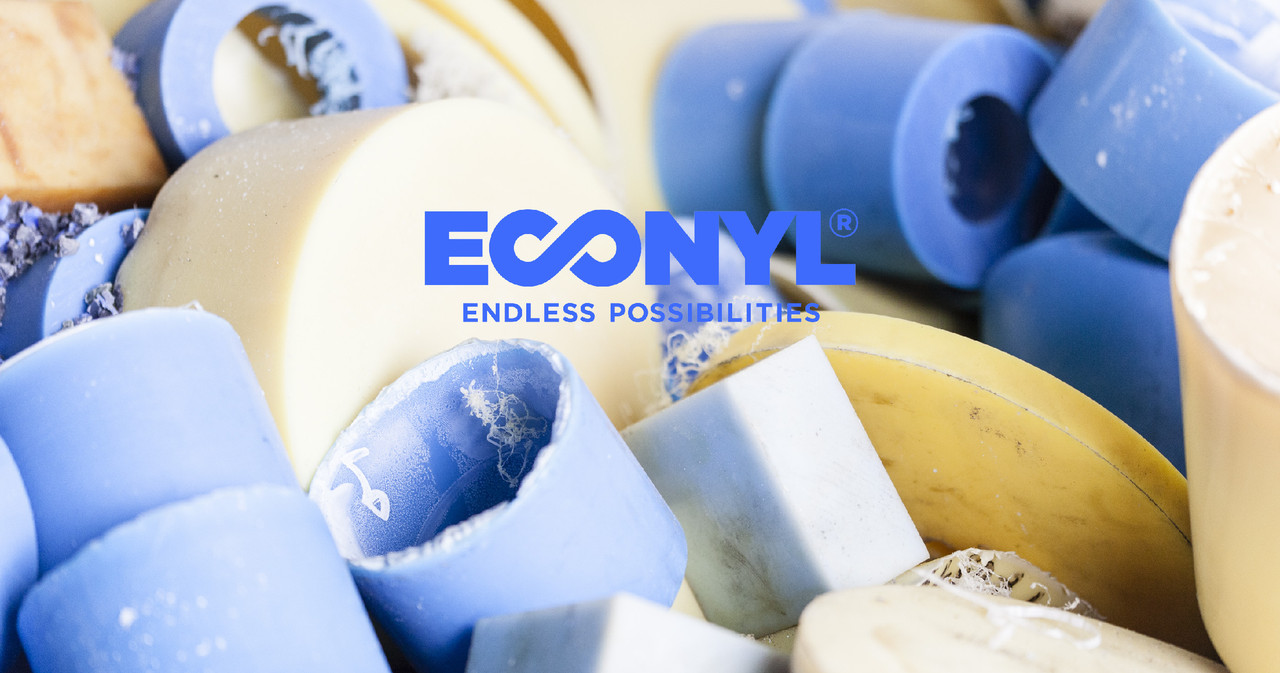 ~ ~ ~
Material
Our core collection uses ECONYL®, a regenerated Nylon yarn. ECONLY® is made from pre-consumer and post-consumer waste. It contains a mix of industrial waste, old carpet flooring, fabric scraps and fishing nets. During a regeneration process, the waste is transformed into ECONYL® regenerated nylon, offering the same properties as virgin nylon. ECONYL® is a circular product and allows endless recycling.
Compared to material produced from crude oil, ECONYL® reduces the global warming impact by up to 90%.
In addition to ECONYL® regenerated nylon, we use the bio-based, renewable yarn EVO®. It has been developed by FULGAR, an Italian yarn manufacturer.
The biomass source for the EVO® yarn stems from the castor bean plant, Ricinus Communis. The plant grows in a dry climate and needs little water and care. The cultivation areas for Castor beans are not used for the human food industry and create therefore no unnecessary competition.
EVO® yarn is very lightweight and extremely breathable. It's quick drying and offers a high level of elasticity combined with compressive function. So a great choice for swimwear.
ECONYL® fibre and EVO® fibre are blended with Lycra®, to make it a fit for purpose swimwear material.
Our lining material is partially made from Q-NOVA® yarn. Over 50% of the Q-Nova yarn is from pre-consumer waste (yarn off cuts at the factory), mechanically processed and re-integrated in the production circle. This process ensures a significant reduction in water and energy compared to conventional production.
All material and trims we use have the Oeko-Tex® Certification. It controls that no harmful substances have been used in the dying process.
~ ~ ~
Manufacturing
We work with a family run business located in Oleggio, North of Milan. The area is known for its rich heritage of textile production with lots of expertise and machinery being preserved. Our production partner collaborated with other small local businesses like a fabric print mill and a pattern cutting service.
~ ~ ~
Production Circle
SMALL FIELD SWIM uses exclusively Italian produced yarns and fabrics. The collection is produced with minimum transport routes in mind.
More precisely, the distance between yarn and product covers 95km / 60miles.
~ ~ ~
Slow Design
One step at a time. We are focusing on a versatile, small & strong range.
We are building on feedback and wearer trial all new shapes. Small production runs help to enable the best possible outcome.
~ ~ ~
Packaging
We use Hydropol™garment bags developed by AQUAPAK POLYMERS to package all products safely and secure at our manufacturer in Italy. This new alternative to poly bags is made from a waste product of oil production.
The bags are water-soluble, ocean safe, biodegradable and break down harmlessly to non-toxic biomass in soil and sea.
Mailer bags and hang tags are made from certified recycled paper and are fully recycable and re-usable.
~ ~ ~
Garment Care
Synthetic fibre such as Polyamide will loose tiny particles of Microplastic during the washing process. This also applies to products made from regenerated nylon.
A garment wash bag from GUPPY FRIEND BAG can be used to filter shedding microfibre from the water and dispose of them into your domestic waste.
We recommend to rinse your swimwear in clear water and lane dry it without exposing it to direct sunlight.
Machine wash as little as possible.
~ ~ ~
Process
As a small brand we can not claim to be perfect. We are trying the best to stay on top of the latest sustainable developments and adapt them when possible.
Please get in touch if you have any questions or feedback about our products.